Learn more about 2Z in a super personal and pleasant chat. Hojin has already said what he expects when he arrives in Brazil, so check it out!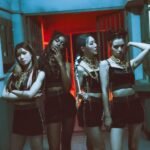 We had the opportunity to interview BlackSwan girls about their experience as a multicultural group, inspirations and their hobbies; check out!
In an intimate interview with SUCO, K-Pop soloist Kisu talks about his single "Boy", career and love for Brazil and Brazilian fans, as well as participating in a game that reveals many personal curiosities! Check it out!